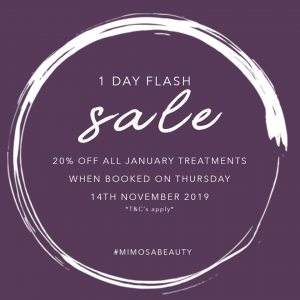 Hello beautiful,
Ready … steady … go!

Our annual flash 1 day sale is on, and we're excited to take your booking!

For today ONLY, we're offering 20% off treatments

to be taken in January, so you can give yourself little bit of luxury at affordable prices.

Pop in and see us or you can book here.

This is important: 

There is NO discount code or special link for booking; we're going to be monitoring all emails and bookings that come in and applying the discount manually. So just book in as you normally would and know that we're taking care of the discount in-house.

Enjoy!

Jennie x

PS – We're accepting bookings for all our lovely therapists, except for Jennie, as she is currently awaiting the test results from her recent injury. All our therapists are personally and extensively trained by Jennie, so you'll still get the same high standard of care you're accustomed to 🙂

Also, please be aware the Ts & cs apply, the discount is not able to be used in conjunction with any other offer, new client discount or free voucher. All appointments booked on 14th November to benefit from the Jan 20% discount are not able to be rescheduled. Clients can of course reschedule appointments at any time at least 48 hours before their appointment but any movement of Jan appointments booked on 14th Nov after Nov 14th are no longer eligible for the 20% discount.