Electrolysis
The only permanent method of hair removal, electrolysis is perfect for getting rid of that one coarse hair that keeps popping up no matter how many times you tweeze it, reducing the appearance of certain skin abnormalities, or to permanently remove hair as part of a gender transition.
This is one of the more involved beauty treatments on the market, so we treat it with the seriousness that it deserves. All electrolysis treatments in Chelmsford are performed by Jennie personally, and we do it that way for a reason — not only is she great at permanent hair removal, she has specialist training in advanced electrolysis, and has been nominated for an industry gold awards for her work with transgender electrolysis and her commitment to the industry.
Have questions before you commit? We're happy to talk it through with you. The best thing to do is if you're new to electrolysis is to book a 15min hair removal session here. This way Jennie and do a consultation, test patch and talk you through the treatment in more depth.
Book in and see Jennie at the salon at 67 Broomfield Road, Chelmsford, CM1 1RY or call on 01245 290334 and request a callback.
Hair removal electrolysis treatments
For hair removal with electrolysis in Chelmsford.
£25 for up to 15 minutes
£43 for up to 30 minutes
£70 for up to 60 minutes – Recommended for Transgender treatments only.
Advanced electrolysis treatments
Our Advanced Electrolysis (blemish removal) in Chelmsford is the treatment that can make the biggest and most immediate difference to you.
Do you suffer from thread veins on your cheeks and feel like they are the first thing people see when they look at you? Jennie can help you!
Skin tags rubbing on your neckline, on necklaces or your skirt? Or under your armpits or even your bra line? Jennie can help you!
Advanced Electrolysis can be used for clinical-level dermatological treatments to remove minor skin issues.
What can you expect with this treatment? A small diathermy current is sent through a very fine point tip which works on the area to be treated. This dries up, crusts and destroys the condition which can often disappear as it is being treated. One treatment can sometimes be enough although further treatments may be necessary depending on the severity of the problem. The treatment itself is a slightly uncomfortable as it is a heat treatment but easily tolerated. There are minimal after effects, with a little tightness and scabbing to be expected with some of the conditions.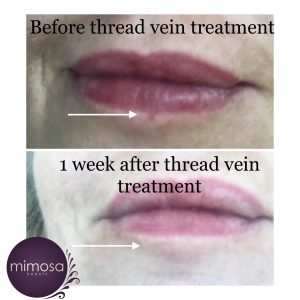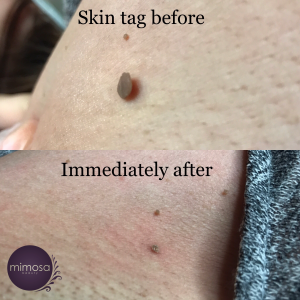 Advanced blemish removal procedures
Advanced cosmetic electrolysis treatments in Chelmsford.
Verruca treatment
Verrucae develop on the soles and toes of the feet, it starts as a tiny pink area which may be speckled with black dots and can become dark and rough crumbly layer of the skin with a 'pepper pot' appearance, Verrucae vary in size from a pin head to a large mosaic verrucae covering whole sections of the sole and can be extremely painful.
Warts
Common Warts are firm, raised growths often with a rough, dry, crusty surface which resemble a vert small cauliflower or a solid blister.
Plane warts are small flesh coloured or pigmented blemishes, very slightly raised, often dry and crusty, flat topped lesions, which most commonly appear on the décolletage.
Both are contagious and may occur anywhere
Mole reduction
Seborrhoeic keratosis
Seborrheic keratosis has a rough dry crusty surface, and range in colour from light brown to almost black.
Xanthelasma
Xanthelasma are deposits of fatty material, under the surface of the skin ranging in size from very small up to one inch in diameter,
Dermatosis papulosa nigra
Dermatosis papulosa nigra (DPN) is a benign epidermal growth that presents as hyperpigmented or skin-colored papules that develop on the face, neck and body. It typically occurs in individuals with Fitzpatrick skin types III to VI, most commonly affecting people of African and Asian descent. It is considered to be a common variant of seborrheic keratoses
Sebaceous hyperplasia
Sebaceous hyperplasia is a common non- contagious benign condition, it is inflammation of sebaceous glands in adults or middle age or older. Lesions can be single or multiple and manifest as yellowish, softy, small papules on the face
Age spots
Age spots are flat pigmented blemishes that occur on the skin. They range in colour from light brown to dark brown and are located in areas most often exposed to the sun, particularly the hands, face, shoulder, arms, and forehead
Skin tags
Skin tags are common and are most frequently found on the neck and face, They are often like a mushroom and vary from size from a tiny speck smaller then a grain of rice, to the size of a large pea or even larger. They are ofter found in areas of friction such as the underarm, groin, under the breasts or around the neck where necklaces may irritate.
Thread veins
heses are broken capillaries but rather permanent dilated capillaries, They are very thin walls which constantly dilate and constrict. There are numerous causes e.g. sun damage ageing, harsh weather, pregnancy, smoking, rubbing of spectacles
Spider Naevus
A spider Naevus is a central dilated blood vessel with smaller capillaries radiating from its legs of a spider.
Campbell de Morgans, also called cherry hemangiomas/ Blood spots
Bright red, superficial vascular blemishes these are often dome shaped or slightly raised and are frequently found on the midriff, most people aged over 30 have at least one and are often more common in men then women.
Milia
These are tiny white, hard, round spots containing keratin which lie superficially under the surface of the skin, the exact cause is unknown although they are often associated with dry, dehydrated skin, high cholesterol diet or excessive intake of vitamin c.
£70 for up to 15 minutes
£110 for up to 30 minutes