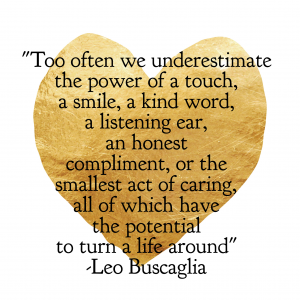 Start December with an Advent of Kindness
Picture the scene: the alarm clock violently wakes you up after what feels like two minutes sleep, you rush around like a lunatic getting ready for work, maybe making lunches, ironing shirts, organising kids, rushing off for through your daily routine of getting stuff done. Then, before you know it, the day is over and you're catapulting through your evening: organising dinner, watching some mind-numbing television programme whilst sorting out homework, getting ready for bed. How often do you feel like you're on autopilot, just making it through the day without taking a second to breathe? I know we can all be guilty of that.
I know we're all busy but I have a plan: something that I think will make your December a little but nicer, and something that will make others around you smile, too.
This month, I urge you to take some time to be something you might not always think to do: be kind. Here is where you're probably (and quite rightly!) thinking: but I'm not a mean person, I'm not unkind! I'm not talking about that: I'm talking about being actively kind. December is the month of giving, after all. Wouldn't it be amazing to make the spirit of Christmas last that bit longer than those rushed few days at the end of the month?
Every year, I make an advent calendar for my family to open every day of December: revealing a little treat for them to enjoy that day. They love it, because it makes that warm fuzzy feeling last all through each day of December.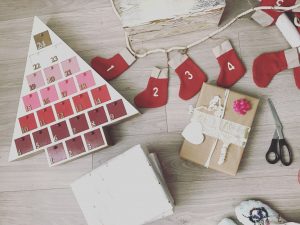 This year, you can get involved and I promise it won't take up too much of your precious time, but will make you and your loved ones feel amazing.
Every day, commit to one act of kindness: I will too, and I know once you start, others around you will get involved too. All you need to do is follow our Instagram or Facebook account (link here) for a guide for the day's act of kindness.
Here are three days' worth of kind acts, so you can know what to expect:
Compliment three people today
Leave a post it note or slip of paper with something kind written on it for someone to see (it could be a colleague, a friend or the man who made your coffee this morning!)
Send a card – even an e-card will do if you are far away from a post office! – to someone who needs some kindness in their life today
See? It's a piece of cake. Don't forget that kindness breeds kindness, so you may find that other people start complimenting you, sending some warm fuzzies your way. Who doesn't want an excuse to smile during the festive season? You could even take a snap and post your acts, using the hashtag #christmaskindess. I look forward to hearing your stories about your acts of kindness!
Keep an eye on our  Instagram and Facebook pages for daily acts of kindness for this month advent!
See you soon,
Jennie