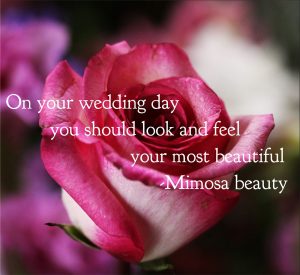 Hello beautiful,
Planning a wedding can be an incredibly fun filled and exciting but stressful time.
Preparing to publicly share your love with your family and friends can turn into a headache. And we know what headaches mean… stressed, worn and tired skin.
Ease those headaches and prepare yourself physically (and mentally!) with our stress free 30 or 60 minute tailor made facial treatments. Wind down in a calming and relaxing beauty salon, knowing full well we're giving you exactly what your skin and mind needs – some much needed respite to continue planning that heavenly day.
We know the importance of doing what's right for your skin, and we tailor make all of our facials. Skin does not become perfect over night, which is why we work closely with you, ensuring your skin is in it's very best condition on your Wedding day. Then all you need to worry about are the essentials like who's catching the bouquet and where to sit Aunt Maude. We even offer a great deal for all you brides to be – Buy a course this December of 5 Facial treatments and get the 6th free (1 year expiry from date of 1st booking).
We have done this so by starting in January or February you can treat your skin monthly or bi monthly before your wedding in the summer … or sooner!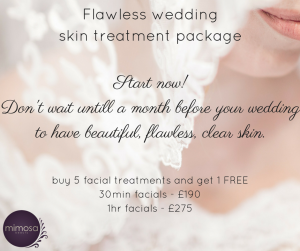 But let's be completely honest: you don't just need a big day to look after your skin. Preparing for a wedding is a good excuse but it doesn't mean you can forget about looking after your skin after the nuptials!
Regular facials are really important for the every day up keep of our skin. At Mimosa Beauty, we look at how to keep your skin ticking over at its best by assessing what it really needs – perhaps alternating between microdermabrasion and the different peels we offer is best for you,  (check out our facial page ) or maybe each time you visit your skin requires something a bit more unique.
That's fine by us – we know you're unique, and it's obvious your skin is, too. It's just as important to look after your skin at home, with the right products as well. Talk to one of our therapists about which products will keep you sparkling through the year, before and after your big day.
Stay skin happy and body beautiful with a little help from us at Mimosa Beauty.
Jennie