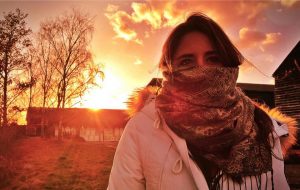 So we know: it's getting colder. It's getting darker. You're definitely wearing a coat now, and the leaves are crisper beneath your feet. The thicker duvet has probably come out from hiding and the barbeque has most definitely gone in for hibernation.
But what are you doing with your skin to prepare yourself for winter? How are you making sure you're looking after yourself and the skin you're in? Here are our tips for staying skin beautiful when the climate changes:
Keep drinking! Hydration is key, ladies and gents. You must stay hydrated and drink as much water as you can in order to quench your skin. Herbal teas are also a godsend as they can keep you hydrated and warm you up – we recommend peppermint tea because it has the added benefit of boosting your metabolism as well!
Stay away from that drying central heating. If you can, get out and about, avoid extensive time in or huddled next to the radiators, which can dry your skin out and leave your skin feeling stretched and dry. We're not suggesting you sit in the cold, but a warmer jumper and a cosy blanket are better than a desert parched complexion.
Don't forget your SPF. The sun's gone therefore you don't have to worry about wearing SPF. WRONG. You must always wear SPF, beautiful. Even when the sun doesn't appear to be 'out,' the rays are still penetrating your skin cells. SPF is not just for Summer, don't be fooled – apply SPF all year round to keep that skin looking younger and fresher for longer.
If all else fails, we're here to help with your skin woes. Book in for a facial with us and we will tailor your treatment to your skin's needs: if the weather has made you dry and flaky, or generally feeling a little dull, we know exactly what to do to bring your sparkle back. Remember, everybody deserves a bit of me time.