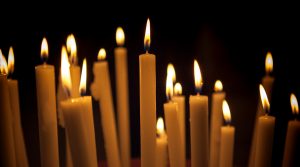 True confession: I love the holidays. Getting presents, giving presents, spending time with my family and friends, taking care of clients as they get ready for events and parties (or take a few hours out to rest!), I love it all.
But my very favourite part of the holidays is that feeling. You know what I'm talking about, that "all's right with the world" feeling that you get when you're having a chat with a friend, or watching the snow with a hot cup of tea. Usually you get it for just a few days around the holidays, but I wanted to see if I could make it last all month long.
That's why I started a gratitude practice.
It's nothing super elaborate, but it's a lovely way to keep that wonderful holiday going all throughout December. Every day, I take just a few moments to think about something I'm grateful for. Some days it's little things, like how good my perfume smells and how grateful I am that I can take a moment to breathe it in. Other days it's big things, like how incredibly grateful I am to live on such a gorgeous planet. It only takes a minute or two, but it really does change the whole tone of the day.
I'd love for you to join me!
We're doing 25 Days of Gratitude here at Mimosa, and we'd love for you to be a part of it! Here's how it works: you click here and let us know that you're interested. Then every day, starting tomorrow, you'll get a little bitty gratitude prompt straight to your inbox. They're all short and simple, the perfect chance to take a breath and tap into that holiday feeling. (And you can start any time — you don't have to feel like you can't join in if you miss the first couple of days!)
The truth is, gratitude breeds more things to be grateful for, so you may find that you suddenly see things that make you happy all around you … and who knows, you might even inspire the people around you as they see how your gratitude practice puts that little spring in your step.
Because ultimately, the holidays aren't about the presents, or the crackers, or even the pudding.  They're about all of us, coming together, caring for each other and enjoying our time together.
Click here to join in on our 25 Days of Gratitude email advent –– and get started with your first prompt tomorrow!
Jennie x
PS — Just like you, we love spending holidays with our family and friends. That's why Mimosa Beauty will be closed from 25th Dec – 2nd Jan. 
But we're still open 9 – 9 on the 19th – 21st, 9 – 6 on the 22nd, and 9 – 3 on the 23rd. We've even got some early openings coming up, so make sure you check in on our booking page, or call us at 01245 290 334 to enquire.