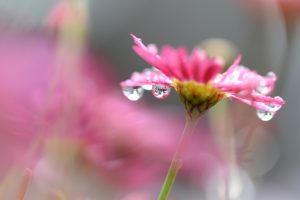 Don't you just love that time of day when you've closed your laptop, the kitchen is (relatively!) clean and you can relax for a little while before you hit the hay? I sure do. There's nothing lovelier than peeling off my work clothes and slipping into nice, clean pjs — it's almost like a ritual. And cleansing my face is just another step in the routine that takes me from the stresses of the working day to the calm, relaxed state that lets my brain know it's finally time to rest.
Cleansing my skin goes far beyond a de-stressing, pre-bedtime ritual though. At Mimosa we're all about inner beauty, but we love taking care of our outer beauty too and cleansing effectively is vital if you want clear, radiant skin.
A cleansing wipe is not enough.
When you're tired it's tempting to just give your face a gentle scrub with a cleansing wipe, but after a long day of being subjected to cosmetics, traffic fumes and central heating, your skin needs more than that. Wiping off the surface layer of makeup is a start, but it's not enough.
To get rid of excess oil, bacteria and dead skin cells, you need a full cleansing routine with the right products.
Which cleanser should you use?
Creamy cleansers may feel luxurious but they're not actually the best choice for your delicate facial skin; they are full of oils and moisturisers that sit on the surface of your skin — this is definitely not what you need when you're trying to remove the dirt and other nasties your skin has picked up since your morning cleanse.
In the salon we always recommend a water-based cleanser that foams when you apply it — Vitage is our absolute favourite. It feels divine on your skin and it gently removes makeup and impurities without leaving a residue, which leaves your skin feeling fresh and smooth and helps your moisturiser do its job too.
Lather, rinse, repeat!
Whether you use a makeup removing wipe or a water-based cleanser, remember to double cleanse. The first application is great for removing makeup, but for really clean skin, you need a second scrub. We promise you, you'll see and feel the difference.
Use a cloth.
For gentle exfoliation, use a cloth to remove the cleanser from your skin. Just remember to go easy on the delicate area around your eyes and wash the cloth regularly.
Forget the toner.
Cleanse, tone and moisturise, it's the holy trinity of skincare! Or so we've all been lead to believe. The thing with toner though, is that it's not strictly necessary for radiant skin. It can be useful for removing the residue that's left over after you use a creamy cleanser, but with water-based cleansers you really don't need it. This leaves you with spare cash to treat yourself to a really great face cream, or even a facial!
The important thing is not to view cleansing as just another chore you have to do before you crawl into bed. It's such an important part of your beauty routine, you deserve to take your time over it and really pamper yourself. And once you get used to the look and feel of baby-soft, fresh, radiant skin, we guarantee it'll become one of the highlights of your day too.
When it comes to cleansing, we swear by Vitage products — to see why, pop into the salon for a Vitage facial. Our lovely new therapist, Amy, offers a 30-minute facial as part of her relaxing Breathe In, Breathe Out package, for only £58. We promise, you'll be a Vitage convert too!
Jennie x