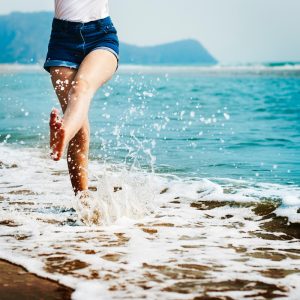 2018 is clearly going to be a summer to remember. Weeks on end with no rain, record-breaking temperatures around the country, warm weather that actually continues once the school holidays have begun. It's glorious!
The flip side is that we all have to keep an even closer eye on our summer prep routine.
More sunshine equals more opportunities for sunburn, frequent beer garden trips and alcohol-fuelled festivals, and the potential for dried out skin and hair. To keep you all looking and feeling gorgeous from the inside out, I've put together the Mimosa team's top tips for making the most of a seemingly endless summer.
Hydration stations.
Feeling great in the heat starts from the inside so it's worth keeping an eye on your hydration, particularly if you're exercising in the heat or you're partaking of a summer cocktail (or several).
It's no coincidence that we all find ourselves craving fresh fruit and salads when the mercury is rising. Foods like watermelon, cucumber, celery and strawberries are naturally full of water and will flood your system with beauty-boosting nutrients as well as keeping you nicely hydrated. I love throwing a good handful of strawberries onto my summer salads.
Make sure you never leave home without at least one reusable water bottle. Stainless steel bottles are amazing — not only are they eco-friendly but if you pop some ice cubes in them when you fill them up, you'll have ice-cold water hours later. Top up your bottle regularly during your working day and if you're out and about, you can install the 'refill' app on your phone that will use your location to show you your nearest water refill station.
Summer Hair.
Our poor hair, after being ravaged all winter with icy winds and howling gales, you'd think when summer finally comes around it would get a bit of a break and a chance to heal. No such luck! Lack of hydration (see above), burning temperatures and days spent climbing in and out of chlorine-filled swimming pools can wreak havoc on your 'do.
Take heart though, there are a few things you can do to protect your hair while you're enjoying the sun. The summertime is all about having fun in the pool or splashing in the sea so the best thing you can do is protect your hair before you take a dip. Hair is like a sponge so a good way to prevent it soaking up too much chlorine or salt water is to douse it with clean water first. And don't be tempted to lie down for a siesta after your swim — always wash the chlorine out of your hair and treat it to a deep conditioning mask or leave-in conditioner to aid recovery.
Be aware too that exposure to UV rays can dry out your strands and affect your hair colour, particularly if you dye your hair. The best way to avoid damage is to wear a sun hat, scarf or bandana.
Sun-safe skin.
The biggest mistake I think we've all made when it comes to protecting our skin in the sun is being too stingy with the old sun cream. We apply once before we head out in the morning and think it's job done. Then we burn to a crisp as we're eating our lunchtime sandwiches in the park! The easiest way to keep your skin safe in the sun is to pop a small bottle of sunscreen in your bag and keep it there all summer long, that way you can top it up during the day and you'll never be caught out when clouds shift and a grey morning turns tropical.
The other important thing to remember is not to skimp the pennies when choosing a sunscreen. It really is one area where you get what you pay for. We have some lovely lotions in the salon that won't leave you with that weird, fake coconutty scent we usually associate with sun cream, or have you feeling like you're coated in grease. Oh, and remember those easily ignored areas when you're applying your lotion, like your hands, toes, the back of your neck and especially your ears.
Smooth skin.
Keeping skin smooth in summer can be an uphill struggle, but if you've followed our advice on hydration and sun cream, you're already halfway there. As with your hair, you want to make sure you're washing any chlorine or salt water off your skin straight after your swim and follow this up with a good dose of high-quality skin cream. If you have overdone the sun, sea and sand a little, lotions containing aloe vera are especially soothing and if you keep them in the fridge, massaging them into sun-kissed skin feels absolutely delicious!
Enjoy smooth skin for longer by ditching the razors and booking yourself in for a wax. It'll save you having to find room in your suitcase for your shaving kit and there's nothing better than getting out of bed, day after day, with baby smooth pins. Just remember that you shouldn't expose just-waxed skin to sunshine or chemicals, so it's best to book in a few days before a big event or holiday.
Tips and toes.
There are some years we're lucky to get one or two days of sandal weather — this summer it feels like we could just about risk packing away our boots until autumn. And the best bit about getting to wear sandals all summer long? The chance to show off a rainbow of colours on our tootsies! Nicely neutral one week, beautiful corals the next…it's so hard to decide.
Keep your tips and toes in tip-top condition with a summertime routine of sun cream application (really don't forget those toes, that's just about one of the sorest places to get sun burn!), moisturising lotion and regular Mimosa manicures to keep them all silky-smooth, chip-free and sparkling.
The Mimosa Team, x