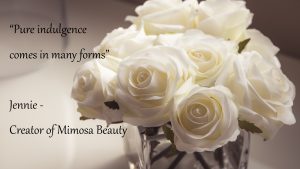 This May it's time to treat yourself to some self-care indulgence.
We have our  2-hour indulgence package with Amy
Treat yourself to top to toe pure indulgence.
1hr facial & Pedicure – £75
or
Pleasure & pain with Laura
You can forget your waxing in a matter of seconds with a relaxing shoulder, neck and scalp massage after your intimate wax. Combining the necessary with me time.
High bikini wax  & de-stress neck, shoulder and scalp massage – £55
Playboy wax & de-stress neck, shoulder and scalp massage- £60
Hollywood wax  & de-stress neck, shoulder and scalp massage- £65
Here is a beautiful illustration breakdown of our intimate waxes: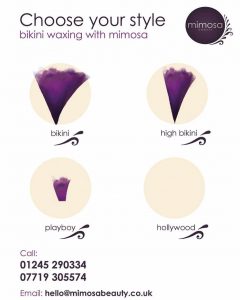 To book – Call: 01245 290334 / 07719 305574
Email: hello@mimosabeauty-co-uk.stormpr.uk
Book online here https://mimosabeauty.co.uk/booking/
Download our App – Mimosa beauty