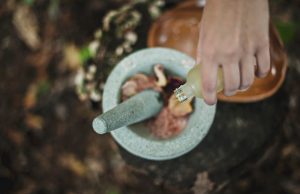 Working in beauty comes with some pretty unexpected hazards: from wax on your clothes to the occasional reaction to tint, it's not always, well, pretty.
But then of course there are the perks … one of the best of which is getting to try all the best beauty products on the market and seeing which ones really do what they say they do. And I have to admit, after years of researching and trying all the best stuff in the beauty market, I've picked up an eye for the good ones.
So I thought I'd share some of my absolute favourites with you so you can give yourself the very best care from head to toe.
Mimosa's 5 Beauty Must-Haves:
1. Lola's Apothecary Oils.
We absolutely adore Lola's here at Mimosa –– not only do they smell absolutely amazing; they're also organic, vegan, and handmade in England. They're one of our go-tos for moisturising both the body and the face, and their rollerballs are a particular favourite of Jennie's. The perfect size to throw in a purse, they make a great on-the-go pick me up.
2. Vitage cleansers.
When we first started getting Vitage cleansers in, we thought they'd be popular, but we had no idea just how popular. After just a few weeks we had customers coming in saying that they absolutely loved what the cleanser did for their skin, but there was just one problem: their partners kept nicking it! If you're looking for a great all-around cleanser that works with every skin type, this is it –– just make sure to pick up two bottles or get ready to share.
3. Medik8 clayMask.
Medik8's clayMask is to stressed out skin what a good cuppa is to a stressed out mind: it soothes, calms, and clears your skin so it can really look its best. We especially love using it as an overnight deep conditioning treatment. Just apply it before you go to bed and let it work all night. (Although you might want to pop a towel over your pillow to keep it clean!)
4. Medik8 Vitamin C Serum.
You might have heard of vitamin C serum before –– it's really great for brightening skin and improving its elasticity. But most vitamin C products aren't actually all that effective because vitamin C itself is really unstable. Medik8's C-Tetra vitamin C serum is designed to work around that, giving you an extra-stable version of vitamin C that protects your skin, reduces the signs of aging, and encourages your skin to produce more collagen, leaving it looking smooth and supple.
5. Revitalash Eyelash Conditioner.
Did you know that your eyelashes actually become thinner and more brittle as you age? Revitalash Eyelash Conditioner work to counteract this, keeping your lashes looking thick and beautiful. (It's also a lifesaver if your lashes are suffering after getting some bad extensions.) Lush lashes in just a few drops a day? Count us in!
See something you just have to have? Perfect timing! We're doing a 20% off sale on all our in-salon products for the month of October. Just pop into the salon to pick up your favourites (and get those holiday presents sorted!)
Click here to book in with us for a treatment, or just drop by. We can't wait to see you!