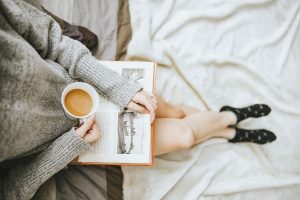 We tend to spend a lot of the holiday season looking outside ourselves –– finding presents for people, going to parties, and spending time with family. And while that's absolutely wonderful, it can also be really draining. Spending so much time on the go, even doing things you love, can leave you feeling like you need a holiday to recover from the holidays!
I see client after client right after the new year looking like they've been just absolutely wrung out, tired and definitely not starting the year off as rested and rejuvenated as they'd like.
I'll be totally honest with you –– there's only so much you can do during the holidays.
It's busy, so you might not have as much time to focus on yourself as you normally would. So instead of trying to fight it … prepare for it!
November is the perfect time to get in a little extra pampering before you get swept up in the holiday madness. And what most people don't realise is that self-care is cumulative. Do a little extra before things get crazy, and you'll be able to get away with some lower-level self-care during the holidays themselves.
So what does this actually look like?
Here's the part where you might expect me to tell you to take a long hot bubble bath, or go on a little mini-staycation before things really gear up. And don't get me wrong, those things are lovely. But (like beauty) self-care is so incredibly personal that what's relaxing for one person could be boring for someone else. So instead of following the typical magazine-style tips, try thinking about what really makes you feel good. Is it reading a book in your favourite chair? Is it going to the cinema with your best friend? Walking around outside and getting some fresh air in your lungs?
Once you know what fills you up, make it a ritual.
Self-care isn't a one-and-done type of thing –– it works best when you weave it into your everyday routine. One of the best ways to do this is to come up with beauty rituals, short little things you can do every day to bring a little more beauty into your life. I have a couple that I use to keep myself grounded and calm, including gently massaging cleanser into my skin when I wash my face at night, or taking at least 10 minutes a day to just sit by myself and recharge. It doesn't need to be complicated. Even taking a few minutes to do something you love every day can make a huge difference.
Need a little extra care? We're here for you. (And we're doing a sale!)
We absolutely love taking care of clients year-round, but there's something extra satisfying about helping people feel their best after a more high-intensity time of the year. That's why we're doing one of our client favourites: a booking flash sale!
So mark your calendar for 14th November –– book in for any treatment in January that day and get 20% off!
It's the perfect chance to get a little extra care after the stress of the holidays.
Click here to learn about our treatments and book in.
We can't wait to see you!
Jennie and the Mimosa Team