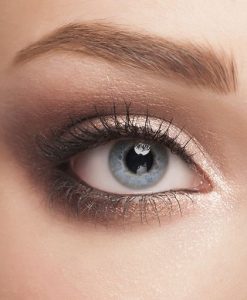 The doorway to our soul. They give away our age, our thoughts, our desires. They can get us into trouble. They show laughter, hurt and confusion. They detect the unsaid. The eye. Do you make the most out of yours?
Now, eyelash tinting can have a bad reputation. Some clients in the past have said they've been put off because they've heard it is painful, uncomfortable or downright pointless. We can only say these people haven't been to Mimosa Beauty! The benefits of getting your eyelashes tinted are phenomenal, and many of our clients come back time after time because they're addicted to the feeling of having effortless, perfectly defined peepers.
One thing we must do before we tint lashes is give you a quick, pain-free patch test prior to the treatment. This is usually applied behind the ear, at least 24 hours before the treatment can take place. This is imperative as it makes us sure you can have your eye lashes tinted safely. The best thing? You can get a patch test at any time – just pop in when you can, or after your last treatment has finished, so that we can quickly dab a patch of product to your skin, so you know you're safe to book your tinting in.
Once you're good to go, you can then experience our bespoke tinting treatment. You will be reclined and your eyes will be closed, we will then apply the products whilst you relax and look forward to seeing the world slightly differently upon arousal. Because we want you to leave rejuvenated and happy, we also give you a secret mini treatment – a little scalp massage you can enjoy whilst the tint is working its magic on your lashes.
Dependent on how well you look after your lashes, the tint lasts four to six weeks and is visibly noticeable from the moment you step out of the salon. Beautiful. Lash tints are particularly fantastic for a few reasons: they require minimal effort for you to upkeep, and you will probably not want to wear mascara, therefore making your daily beauty routine that little bit easier (five minutes extra in bed – result!). Secondly, they are perfect for holidays. Nobody wants to be mistaken for a panda when they emerge from the pool, and thick make up on holiday is not the one – you can take care of your eyes at home, before you even think about donning a bikini! Not only this, having tinted lashes is a godsend to those pale skinned English roses out there who are blessed with fair skin and light lashes – the instant definition on the eyes makes even the most pearlescent countenance more vivid.
What're you waiting for? Ignore the lash-tinting phobes and look forward to new, effortless and striking lashes.