FaceLITE LED Face Mask
£299.00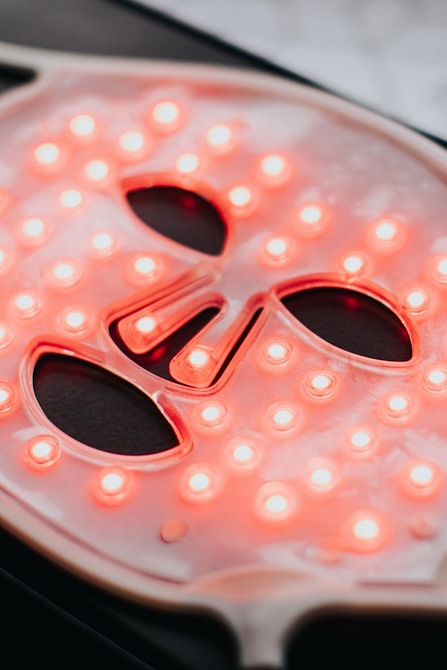 Anti-Aging red & near infra-red light therapy at home.
FaceLITE combines clinically proven wavelengths of light with the latest generation LED technology to energise cellular function, creating a cascade of biochemical reactions that help revitalise dull, ageing skin, improve skin firmness and elasticity, reduce fine lines and wrinkles, and reduce skin pigmentation.
FaceLITE uses controlled red and infrared light to deliver this unique, quick and easy full facial skin rejuvenation treatment that you can do at any time while relaxing, reading or even working.
• Treats the whole face in just 10 minutes – We recommend to use 3/4 x per week for bets results
• Soft comfy fit
• Hypoallergenic
• Rechargeable
• Fully portable
• Auto timer
• Easy wipe clean silicon finish
• Flat for travel
• Clinically proven
• FDA approval for reducing whole face wrinkles
• Combined dual wavelength – 830nm and 633nm
Total device dimensions:
• Facemask: 406mm max (w) x 196mm max (h)
• Controller: 23mm max (dia) x 104mm (l)
Weight: 600g (controller and face mask)
Contents: faceLITE silicon flexible face mask, controller, USB charging cable, head strap, carry bag.
faceLITE is the sister product to Omnilux & Dermalux professional, the only global LED device with over 34 clinical peer reviewed papers. This medical heritage reassures you of the efficacy of our exciting full-face home use device.
As we age, skin becomes thinner and drier and develops sags and wrinkles. Changes in the connective tissue reduce the skin's strength and elasticity. This is known as elastosis faceLITE uses two clinically proven wavelengths of light 633nm (red) and 830nm (near infra-red). These wavelengths have been shown in clinical studies to stimulate collagen and elastin production and improve blood flow and tissue oxygenation which leaves skin looking rejuvenated, plumper and over time helps reduce the appearance of fine lines and wrinkles. faceLITE delivers light directly to the skin; the cellular interactions within the dermis allow the skin cells to absorb topical skincare products more effectively.
FAQ's
WHAT IS FACELITE LED FACE MASK?
faceLITE is a flexible, portable, home use mask that uses light emitting diodes (LED) to bathe the skin in light. faceLITE uses the same clinically proven technology as its sister company Omnilux; the global market leaders in Medical LED technology.
IS IT SAFE?
faceLITE has been tested and is compliant to international safety standards. Since the mask doesn't cover the eyes; eye protection isn't necessary. A List of medication can be found HERE. Since faceLITE generates no heat, most people are suitable but there is a list of contraindications that should be referred to by anyone who is thinking of having a faceLITE treatment. View list of contraindications.
IS THE FACELITE TREATMENT PAINFUL?
No pain should be felt whilst using faceLite. The light penetrates the skin and stimulates the cells to work in a natural way. FaceLITE is non-invasive and there is no heat and therefore the treatment is completely pain free.
WHO IS SUITABLE FOR FACELITE?
DO NOT use faceLITE if you are taking any medication that can cause photosensitivity, have a photosensitive disorder or are pregnant or breast feeding. Photosensitivity (sensitisation to light) is a common side effect of various medications and some herbal remedies.
WHAT RESULTS CAN I EXPECT FROM THE FACELITE LED FACE MASK?
Fine Lines & Wrinkles After 3 Treatments per week for 4 weeks; up to 41% reduction of wrinkles, with reduction in redness and softer, smoother, rehydrated skin. Improved Skin Texture After 1 Treatment per week for 4 weeks; 41% improvement in skin texture and smoothness, showing hydration and cell turnover increase and after 3 treatments per week for 4 weeks 95% showed an improvement in texture, firmness and skin tone. Increased Blood Flow After 3 Treatments per week for 4 weeks; 95% confirmed skin looked brighter and plumper. Tissue Oxygenation faceLITE uses proven wavelengths of light; 633nm red light and 830nm or near infra-red light. These wavelengths have been shown in studies to stimulate collagen and elastin production and help to improve blood flow and tissue oxygenation through a process called photobiomodulation. *Tested on over 100 patients in Independent clinical studies, peer reviewed published papers, with supported claims that are proven statistically to be significant.
HOW OFTEN DO I NEED TO USE THE FACELITE LED FACE MASK?
For best results we recommend that you treat for 3-5 days a week for a minimum of 4 weeks. We recommend maintenance treatments to ensure you keep your skin looking younger and fresher.
CAN I USE THE FACELITE LED FACE MASK WITH MY OWN SKINCARE
faceLITE has been proven in trials to greatly improve skin parameters such as hydration, texture and pigmentation. faceLite improves tissue oxygenation and blood flow and therefore absorption of skin care will be greatly improved. faceLITE is compatible with most normal skin care routines although we do highly recommend using it in conjunction with the faceLITE peel pads and hydrogel mask for best results.
CAN I COMBINE FACELITE WITH OTHER AESTHETIC TREATMENTS?
Yes, faceLITE can be combined with more invasive treatments such as botox, peels, injectables and laser resurfacing; it can help in the healing process and help to reduce bruising and swelling due to its anti-inflammatory properties.