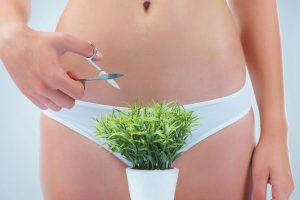 Have we lost the plot with pubes?
Lock up your labia: there's now a pubic-hair transplant
If the summer of '17 was all about the thong bum, the spring of '18 is looking decidedly… crotch-y. At New York Fashion Week, Tom Ford's models wore treacherously low-slung waistbands – the kind that make you wonder exactly how they're staying up. While men have the asset of a trouser-snake turned trouser-shelf, the female pubic bush has long been a little, well, limp.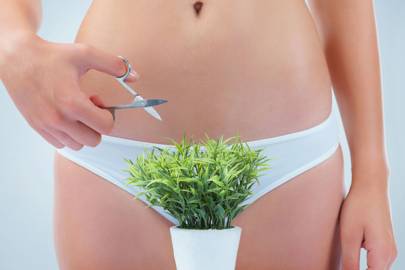 It doesn't take a pubic scientist to tell you that chopping off labial locks is big business – though, actually, a scientist can confirm this. Urologist Dr Mathew D. Truesdale recently examined the pubic-hair behaviours of 7570 people and found that 85% of women and 67% of men are pruners. But the eye-opening part – make that leg-opening – was the lengths people would go to to ensure they had no length. We're talking intimate injuries sustained by 24% of men and 27% of women: some so severe that they required hospital attention.
The details make an in-grown hair seem like a scalp massage. The most common injury was lacerations (*wince*), followed by burns and rashes. For women, that meant anywhere from the mound right back to the perineum. Guys' most common victim was his scrotum, with a further 35% attacking The Chap itself. A 2015 study also found that 80% of groomers suffer from that lovely dinner-party activity – genital itching
"I've seen bruising, scars, burns. When unqualified therapists use strip wax, I've actually known of vulva skin to come off," reveals Jennie Lawson, owner of Mimosa Beauty salon. "We've seen wax stuck in all the wrong places that had to be chipped off," says hair-removal expert Courtney Fuhr of Sorbet Salons.
And it's not just professional Bush Keepers who've witnessed shockers. Among friends, a quick, "Any bad pube-removal experiences?" reveals a torrent of crotch traumas. One got a huge blood blister – "a massive grape in the under-cracker" – from a home-waxing kit. Another was left traumatised when a salon wax wouldn't come off: "I ended up with four beauticians crowded around my vagina discussing what to do, with my legs in the air." A third asked for a Brazilian but got something altogether hairier: "The waxer took off the middle strip but left hair on either side, like Moses parting the waves. It looked like an old man's beard on each side of my vaj."
Which makes you wonder if fuzz is actually better than all the fuss? A 2013 study found that 20% of previous pube-removers had stopped – sick of the physical side effects (i.e. rashes) and the hassle. This year, waxer Courtney has seen a fall in the number of Hollywoods [everything off]. "Some Brits are bringing back the bush. The wave of online feminism means taboos are breaking down – women feel more comfortable challenging 'the norm' in grooming," she affirms.
But perhaps the biggest sign of a change in pubic grooming is the launch of a new procedure that doesn't remove pubic hair – but puts it back. Currently known only as the 'head to body-hair transfer', surgeon Mike Smith of The Plastic Surgery Group recently saw the treatment pioneered in Eastern Europe and Asia. For around £750 to £1000 (depending on how many hairs you want), hair is taken from your scalp and transplanted down below. "There is a small but growing trend, particularly in Russia, to reshape pubic hair, especially if permanent hair-removal treatments have been used." After years of waxing or laser treatments, clients find that their hair – when they can't be arsed anymore – grows back patchy, sparse and poorly defined.
Which reminds you of another plucked-to-death part of the body, doesn't it. Could the bush be the new brow? We're lazy – I mean, game – if you are.
http://www.glamourmagazine.co.uk/article/should-i-shave-my-pubes
Have a sex question or topic you'd like to know more about? Gemma would love to hear from you. Email her at glamoursexeditor@condenast.co.uk.
@GemmaAskham.