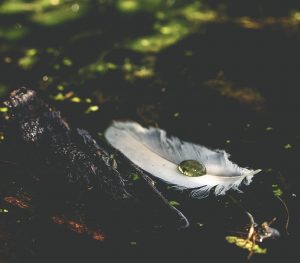 There are few things in life that baffle me to the point of disbelief.
I have seen far too many naked bodies, met far too many different types of people, and travelled to far too many countries to be shocked easily. It takes a lot to stun me in to silence.
But the one thing that completely and utterly stumps me every time is how some of my clients feel about the treatments that they visit us for.
Something that should be such a relief, such a moment of care and beauty, ends up being poisoned by guilt.
It may be because they feel they 'should' be somewhere else: running around like a headless chicken after their two year old, working on that VERY IMPORTANT project or even just cleaning the kitchen.
If it's not thinking about what they "should" be doing, it is worrying about how much the treatment will cost, and what their great Aunt Gertrude would have to say about spending that amount of money on "just" a facial.
People often come to me with guilt radiating from their pores.
Sometimes I think I can see in to through their eyes in to their busy brains – watching the calculations they are making and creating resolutions to justify the time they are spending at Mimosa Beauty.
And this makes me so sad.
Because why do you need to feel like there is a purpose for your 'me' time, other than making just that – time for yourself?
Furthermore, what drives me crazy is that it seems it is OK to spend £75 on that meal out, or a new outfit, but it isn't acceptable to spend a little under forty pounds on a face treatment that will make you look and feel instantly better next time you peep into that mirror, and will last for weeks.
Something has got to change in the way we value and prioritise our wellbeing.
Easier said than done, I know. I'm guilty of this sometimes, too. Recently, I told a white lie – I chose to say I was going out to a business meeting rather than admit to a quick trip to the beauty salon for some of my own 'me time.' I had to check myself, and remind myself that really, it didn't matter where I was going – I was going out to make myself feel great and rejuvenate my body whilst giving my hard working brain a much needed bout of relaxation. Why do I have to justify this? I don't, and I won't.
Making time for yourself is paramount in maintaining a healthy mind and body. It actually makes you a better pal, partner, and parent.
Treatments, like the ones available at Mimosa Beauty, are designed to make you feel how you deserve to feel – pampered, content and beautiful: strong enough to take on the world. It is your right to look in the mirror and feel fantastic about yourself every day, and giving yourself 'me time' is so important because it means you can keep being that fantastic mother, that exceptional business partner and that wonderful friend.
Not looking after yourself can lead to the opposite: feeling unmotivated, stressed and lacking in confidence. And nobody deserves to feel that way.
Let's try to remember that everybody – including hard working therapists(!), stay-at-home mums, busy businessmen and stressed students – all deserve self-care.
Jennie
Book in for your next self-care treatment here. We can't wait to see you!