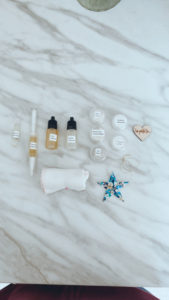 Hello beautiful,

It's the same every year; everywhere you turn this season you're hit with a single message:

You're not good enough.

Sure, it might be dressed up as a call to try a new wrinkle-erasing night cream, an ad for a juice cleanse to help you "shed the extra holiday pounds", or the latest exercise fad that guarantees you'll burn 600 calories an hour and melt away your love handles (or bingo wings, or whichever body part the influencers have decided to hate on this year).

But whatever it is, however it's presented to you, it makes one thing very clear:

You're supposed to want to change. You're supposed to think that you're a constant work in progress.

You're supposed to believe that self-acceptance and happiness are just around the next corner and if you just do x, y, or z, you'll finally get there.

But here's the thing I really want you to remember right now:

It's all completely false. Because you are utterly, completely, wonderfully perfect, exactly as you are.

So let's reframe this time of year completely. Instead of focusing on self-improvement, focus on self-love and self-care. Take a moment to stop and breathe and listen to your body. Make a concerted effort to acknowledge the person you are — perceived flaws and all — and reflect on the wonderful attributes that make you so incredibly gorgeous, inside and out. 

And take time to truly celebrate YOU.

Of course, if you've spent every January and February since the dawn of time trying to lose weight, make yourself look a certain way, relentlessly improve your mind, or deep dive into some other form of self-improvement, this won't necessarily come easily to you.

In which case, I have an incredible ritual to get you started…

Nourish your mind with gratitude.

This is a beautiful self-love ritual that really helps you connect with the beauty that already exists within your body, your mind, and the world around you.

How it works:

Take a teaspoon of oil and massage it into each of your cuticles. As you move through each one, think about something you're grateful for. It can be something specifically related to your body — for instance, you could think about how happy you are with the gels on your fingernails, or the fact that your hands allow you to write, or cook or paint. Or it could be something unrelated, like how grateful you are for your partner or friends.

The cuticle oil will keep your fingers looking lovely, and you won't just feel calmer and happier when you're thinking about all the good things you have going on, you'll actively start rewiring your brain to focus on the positive things in your life — which makes it a million times easier to start ignoring all of the "New Year, New You" messages that abound right now.

The best part? It only takes a couple of minutes.

If you loved this ritual and want to infuse your daily life with even more moments of beauty, of serenity, of self-care, and self-love, I'd love to welcome you to the online Mimosa Sanctuary, where every week you will receive the new tools and rituals you need to make 2023 a year of calm, of self-acceptance, of beauty, and joy. Or if you'd like to take a deep dive into all things self-care, you can get instant access to 12 months of Sanctuary secrets right here.

See you in there, gorgeous?

Jennie x

P.S. Don't forget, we're always here for you in person too, so if you're longing to treat yourself to an intense hit of tranquility and relaxation, we'd love to welcome you to the Mimosa Salon. Discover our treatment menu and book your appointment today.