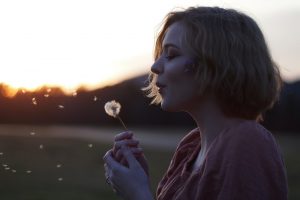 I don't know about you, but I love a good checklist. Give me a routine, and I'll follow it. I've even made a couple of my own to help you enjoy the beauty of your life and our planet, because I know that it's so easy to get caught up in the hustle and bustle of daily living and forget to take care of yourself if you don't build it into your life.
It's why I love this month so much — April is Stress Awareness Month, making it the perfect time to really dive into self-care — and it's also the perfect time of year for me to give my regular warning: if your stress-reducing routine is stressing you out, you should re-evaluate! It sounds simple, but so many of my clients end up getting so concerned about their self-care routine that they actually end up feeling worse.
Maybe you can relate: have you ever worried so much about being stressed that you end up stressing yourself out more? Or maybe you find yourself getting down because you're "failing" at your self-care routine?
Here's the thing, beautiful: you're already doing more than you think.
Just by deciding to focus on reducing your stress, you've already taken a great step towards self-care, so don't get so caught up in it that you end up sabotaging yourself.
So no more beating yourself up, OK? And remember, stress, self-care, the whole thing — it doesn't need to be complicated. Your stress-relief can be as simple as trying one of the following:
1. Scalp pulling.
Sounds crazy, looks weird, works like a dream. The next time you feel stressed, grab a fistful of your hair right down by the roots, pull up firmly, and wiggle it around a little bit. It feels great, increases blood flow to your scalp, and creates space between your scalp and your skull, which eases tension.
2. Take a couple of slow, deep breaths.
When you get stressed, your body gets the idea that you're facing a physical threat, and responds by speeding up your breathing, among other things. What many people don't realise is that the relationship between your body and your mind goes both ways. If you deliberately slow your breathing, your mind will get the message that, actually, you're OK, making you feel better.
3. Give yourself a mini-massage.
Similarly, if you can get in touch with your vagus nerve (this long nerve that runs from your brain down through your abdomen, touching most of your major organs along the way), you can signal to your parasympathetic nervous system that everything's OK.
Translation: it calms your body down and you feel better. One simple way to do this is to give yourself a light neck massage, focusing especially on the part where you normally check your pulse. Give it a go, you might be surprised to see how fast it can work!
And on the off chance you need a little extra stress-reducing help, we're here for you. Massages, facials, and the simple act of having someone care for your body can do wonders for your stress levels, so come and see us!
See you soon!
Jennie x