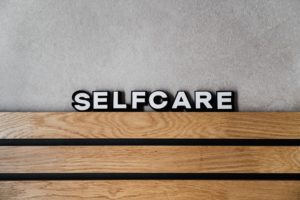 Hello beautiful,
Hands up if you've made a huge, sweeping declaration for the New Year?
You're going to ace your self-care by meditating for 30 minutes every single day. You're going to finally get fit. You're going to declutter your entire house from top to bottom.
That's how it goes at this time of year, isn't it?
Check out the Mimosa Vision Board Kit and learn why intention-setting beats goal-setting every time — and how to set effective, beautiful intentions for 2023.
But here's what I'd like you to remember:
The best long-lasting results don't often come from big promises and huge efforts.
They come from teensy, tiny steps taken consistently.
So that's why, this New Year, I'm inviting you to put a pin in those massive ambitions and join me in thinking small.
And that will mostly look like getting back to the very basics of self-care.
Things like:
Focusing on your breath.
This is a powerful way to reconnect with your body and mind and find stillness in chaos. So take a moment every day to focus on your breathing.
Note the sensation of the cool air entering your nose or the way your belly rises and falls with each breath. If you feel stressed or anxious, bring instant relief by counting to 4 on your inhale, pausing for 4, and then exhaling for 4.
Tuning into your senses.
We often have the sense that we want to infuse our lives with more beauty — and I LOVE that!. But we don't always take the time to appreciate the beauty that already surrounds us.
Tuning into your senses is an incredibly powerful way to do just that. So at least once every day, take a second to notice the beauty in your life and how it impacts every sense organ. It might be the delicious warmth as a bit of winter sun breaks through the clouds, the energising aroma of your favourite morning coffee, the sensation of your partner's or your child's hand in yours, the gorgeousness of the first Snowdrops poking through the frozen earth.
Discover a new ritual.
We often autopilot our way through the day but when we stop to make a ritual out of our daily habits we instantly elevate them to something uplifting or soothing.
Try this: instead of just slapping body oil onto your limbs after your shower, turn this into a beautiful daily indulgence by opening the 'good' body lotion you've hidden away and slowly take every part of your body in turn, mindfully smoothing the lotion onto your skin, appreciating the feel, the smell, and the fact that you're taking a moment to do something lovely, just for you.
Express your gratitude.
You know me well enough by now to know that I consider gratitude to be one of the most powerful tools we have to make ourselves feel wonderful.
If you don't feel inspired to write in a gratitude journal, though, why not create a different ritual for the year where every week you contact just one person in your orbit to thank them for the positive impact they've had on your life? A short simple message will be enough to give them — and you — a long-lasting happiness boost.
The best thing about these tiny rituals?
Maintaining these self-care basics on a daily or weekly basis won't just leave you feeling more grounded in the moment — the compound effect of small steps forward will ripple throughout your year, bringing you joy, tranquillity, and energy, whenever you need it.
I hope you enjoy them as much as I do.
Jennie x
P.S. If you want to devote a little more time to yourself this year, I'd love to welcome you to the online Mimosa Sanctuary, where you'll find even more tiny but impactful self-care advice and rituals that will infuse your life with beauty and tranquility. Find out more and join us here.
P.P.S. Want to brighten up your January with trip to the Mimosa Salon? You can check the remaining availability for the month here.