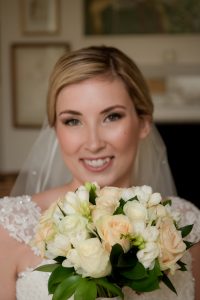 Hello beautiful, my name is Natalie!
I'm thrilled to be writing this blog post for Mimosa Beauty.
Jennie recently posted a blog entry about preparing your skin for your wedding. She asked me to write about my experience of preparing your skin for your wedding.
I got married in July 2016, we had an amazing day, it was everything I wanted it to be. But, as anyone who is engaged knows, the planning was long and intense!
I knew that I wanted to do my own make up for my wedding. I have had many bad experiences with make-up artists (not Jennie!) doing my make-up poorly and then hating it. I would then take it off and do it again myself! Wasting time and money.
I knew that the basis to looking amazing on any big occasion is a great base. I spoke to Jenny about eight months before I was due to get married and she sat me down for a consultation about my skin. The stress of planning the wedding and work was already starting to take it's toll on my skin. My skin was dry but blemish-prone, it had uneven texture and looked tired and dull. She told me that the best way to get great skin was to have regular facials. I purchased a course of 5 facials, plus one free! This meant that I could have evenly spaced facials over a suitable period of time to tackle my stressed-out skin.
Visiting Mimosa Beauty is always a treat, a bit of me-time to enjoy, but having these facials was extra special. With the strain of planning the wedding, working and all manner of other things that come your way, having time to relax and focus on me as a person was invaluable.
I had alternative sessions of enzyme peels and Crystal free diamondtome microdermabrasion. This allowed my skin to be refreshed and revitalised from deep within the skin and on the surface. Including the de-stressing shoulder and scalp massage on the one hour treatments was also incredible to easing the tensions around which canapes to order and whether to sit Auntie Doris near Great Uncle Clive following what happened at "that" party!
By the time my wedding arrived I felt like I had new skin! It was smooth, even-toned and radiant. I stopped wearing foundation or BB creams for about 2 months before the wedding and people would regularly comment on how great my skin looked.
On the big day, I set out all my products to spend time carefully applying my make-up. my mother and sister commented on my dressing table, asking where my base products were. I replied that I am just going to wear a tiny amount of light coverage foundation on places I know get a bit red when I am nervous and some powder to control shine, and that is all I wore!
If you had said to me at the consultation with Jennie eight months before my wedding that I would wear that little on my face I would have laughed at you, but from spending the time on the lead up to the wedding, focusing on my skin, I didn't want or need to cover it up!
Whatever style wedding you are having, bohemian bliss, classic chic or seaside sunshine, make sure that you are radiant and confident in the skin that you are in!
Natalie x
Photography by Chanon DeValois  – http://www.cvphoto.co.uk