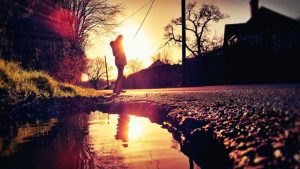 Autumn. A short, dark hop to Winter. And with it comes the cold, the shortened days, and for some of us, a few seasonal blues. Many of us are getting up in the dark, leaving for work in the dark, and travelling home in the dark. If Mother Nature hasn't graced us yet with a few Winter Wobble-type blues yet, it is likely she will within the next few weeks. So, what can you do to stay positive, when the last thing you want to do is face the chill of the air, or the dark of the night? Here's a few of our top tips for staying sane in the SAD months:
Keep things BRIGHT. It may be dark outside, but it doesn't mean it has to be inside. Make sure you're illuminating your home so that it keeps you happy: we recommend getting some extra lighting, whether it be fairy lights, funky lamp shades or cool candles, shining lights mean you feel brighter.
Focus on some 'me time.' That can be as simple as reading a book, curling up for a nap on the sofa, or watching your favourite TV programme uninterrupted; whatever it is, do something for you, every day. And no, it's not selfish, it's self-love, and that's invaluable.
Plan to enjoy the changes in the weather. As they say, if you can't beat them, join them. So, unfortunately we can't make the cold nights go away, and we can't keep the sun up any longer, but we can work out ways of making the most of what we have. So, our advice is to get outside. Go for a walk with a friend to your local park or woods, drag your family for a bike ride, plan to go for a meal or coffee in the evenings, without making excuses. Embracing the weather is a lot better than hiding away from it.
Keep to your sleep routine. It may be still dark at 6am, and equally dark at 8pm, but you must not allow the weather to dominate your sleeping patterns. So, if you usually go to bed at 10, stick to that, and keep to your usual routine. Your body and mind will thank you for it.
Eat well. Use the change in season as an excuse to try new foods: switch the salad for soup and vegetables, cook your own delicacies, enjoy some warming hot pots and puddings… Having a healthy, happy stomach is really important in keeping your mind positive.
Even if you just try one or two of the tips above, we promise you'll start feeling better. If you feel you need some pampering (and why not?!), remember we recommend our 1hr facial treatments with the heated blanket for the optimum relaxation experience. Don't forget, everyone deserves a little 'me time.'